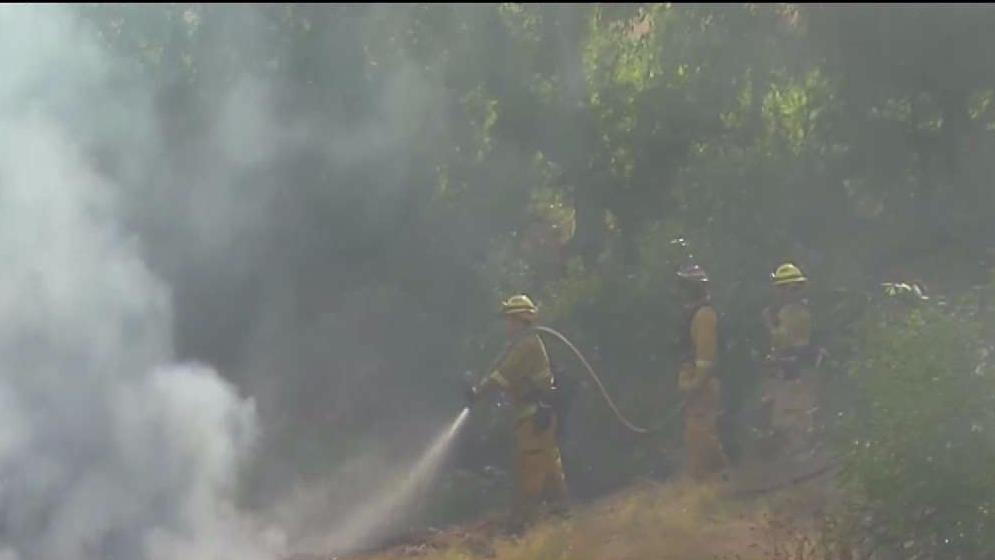 Two small brush fires, just blocks apart, popped up in Mountain View Saturday.
Janelle Woodson was at home with her four dogs when the fire broke started. Watching the flames move closer and closer literally left her speechless.
Luckily Charlie, Paige, Shy Shy and Trixie were all right, but their their food and water are still among the ashes in Woodson's torched yard. 
"I'm not worried about that," she says. "That's material, Just long as they're okay. I can't get them back." 
San Diego Fire-Rescue got the call about a structure fire on south 46th Street that started in vegetation behind the neighborhood around 4 p.m. The fire, which was put out with the help of a helicopter, damaged three structures and some fencing.
The helicopter then saw flames at a second fire, which burned more than half an acre just three blocks away at the 47th Street exit from Interstate 805. The second fire was in a dumping ground. 
Crews are "overhauling" the fire, which means the flames are out but officials will go over it to make sure no sparks of embers could reignite.
Published at 6:52 PM PDT on Jul 15, 2017 | Updated at 11:52 PM PDT on Jul 15, 2017